Ever since the post-pandemic explosion in remote work, more and more countries have been establishing digital nomad visas in hopes of bolstering their economies. But while many of those countries are still hammering out the details of their program, Portugal's digital nomad visa is up and running. Combine that with Portugal's great weather, affordable cost of living, and rich culture, and it's no wonder that people are moving to Portugal in droves.
Thinking about moving to Portugal yourself, or just want to learn more about their digital nomad visa? Read on to learn what Portugal's digital nomad visa offers, who is eligible for it, how to apply, and more.
What to know about the digital nomad visa in Portual
Portugal's digital nomad visa, which falls under their D7 visa category, allows those who can make a living remotely to live and work in the country legally.
There are two different versions of the visa: a temporary stay visa for stays up to one year and a residence visa for stays over one year.
Upon expiration, the resident visa can be renewed for up to five years in total. Applicants can also secure a visa for their spouse and dependents, as long as they file the corresponding paperwork.
Looking deeper: Benefits of the Portugal digital nomad visa
Beyond the obvious benefit of being able to live and work in Portugal legally, the new digital nomad visa offers some additional perks.
Pro tip:
Perhaps the most notable benefit for digital nomads is the preferential tax rate they receive: Income generated from foreign sources is not taxed at all, while domestic income is taxed at just 20%. Considering that income taxes in Portugal can be taxed up to 48%, this is a significantly lower rate than usual.
The digital nomad visa also offers a clear stepping stone to permanent residency, which can be acquired after five years of lawful residence in the country. So if you apply for a digital nomad residence visa and renew it to the maximum, you'll be eligible by the end of your stay.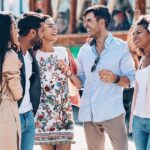 Related: The 13 Best Digital Nomad Cities for US Expats in 2023
Digital nomad visa requirements
In order to apply for Portugal's digital nomad visa, applicants must:
Prove that they are able to work remotely: You must provide a work contract and notarized statement confirming that you are indeed able to work as a digital nomad
Demonstrate proof of income: You must provide income statements from the previous three months, which must be equal to or greater than four times the monthly minimum wage of 705€ (2820€ total)
Disclose their tax residency: You must provide documents that confirm where you currently reside and pay taxes
How to apply for the digital nomad visa
The application process for Portugal's digital nomad visa is fairly straightforward — the hard part is just gathering all of the initial documents. This includes:
A national visa application1
A valid passport + copy
Two recent passport-sized photos in good condition
Travel insurance that covers medical expenses for the duration of your stay
A criminal record certificate, along with a form2 granting the Immigration and Border Services (SEF) permission to investigate your criminal history
Proof of lodging/housing
You may need to include additional documentation depending on your specific circumstances, so make sure to double-check with the embassy.
After gathering all of the required documents, it's time to submit them to your designated Portuguese embassy,3 consulate, or visa application center. Most of the time, you'll need to deliver these in person, but some locales might accept applications by mail.
If you properly submit everything, you'll receive your visa in an average of 15 business days — although it may take longer if there's a high volume of outstanding applications to process. With your visa in hand, the process of moving to Portugal can begin in earnest.
📢 Important update:
There is currently an enormous backlog of applications for the Portugal Digital Nomad Visa. If you have your heart set on moving to Europe to work as a digital nomad, Bright!Tax highly recommends reviewing our articles on the digital nomad visas available in Greece and Croatia.
Ensure a smooth transition
Moving to Portugal (or any new country, for that matter!) is exciting, but between finding housing, meeting new people, and of course, exploring your new surroundings, it does take some effort. And in the midst of such a busy time, taxes are probably the last thing you want to be worrying about.
References