US Expat Taxes for Americans Living in Switzerland – What You Need to Know
10/11/2021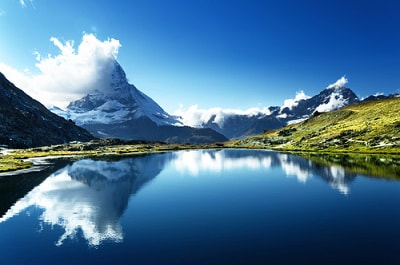 There are an estimated 40,000 Americans living in Switzerland
Switzerland is a wonderful place to live, thanks to its friendly people and inspiring landscapes, and the rest of Europe is right on your doorstep, too.
All US citizens and green card holders whose global income meets IRS minimum thresholds are required to file a US federal tax return and pay taxes to the IRS, regardless of where in the world they live or their income is generated.
The good news is if you are paying income tax in Switzerland, there are various exclusions and credits available to reduce your US tax bill, in most cases to zero.
US taxes – what you need to know
If your annual, global income exceeds US$12,550 (per individual) in 2021 ($12,400 in 2020), or $400 of self-employment income, or just $5 of any income if you are married to but filing separately from a foreigner, then you are required to file Form 1040.
If you have foreign assets worth a minimum of US$200,000 (per person), excluding your home if it is owned in your own name, you should also file form 8938 to declare them.
If you had a total of at least US$10,000 in one or more foreign accounts at any time during the tax year, you are also required to file FinCEN form 114, also known as a Foreign Bank Account Report or FBAR.
"The amount of tax you have to pay (in Switzerland) depends on your income and savings, your civil status, church membership, where you live and how many children you have."
– Swiss Federal Tax Administration
If you pay income tax in Switzerland, there are several ways you can reduce or null the tax due on the same income to the IRS. The two primary ways are the Foreign Earned Income Exclusion, which lets you exclude the first around US$100,000 of foreign earned income from US tax so long as you can demonstrate that you are a Swiss resident, and the Foreign Tax Credit, which gives you a dollar tax credit for every dollar of tax you've paid in Switzerland. The Foreign Tax Credit is often a better option if you pay more tax in Switzerland than you would owe to the IRS, as you can carry the excess credits forward for future use. Don;t forget though that even if you don't owe any tax to the IRS, if your income is more than the IRS thresholds mentioned above, you still have to file a federal return.
The United States – Switzerland Tax Treaty
The United States – Switzerland Tax Treaty covers double taxation with regards to income tax, corporation tax, and capital gains tax, however, a clause called a savings clause in Article 1 section (2) states that "the United States may tax its citizens (including its former citizens) as if this Convention had not come into effect." This means that US expats are still liable to file US taxes on their global income.
However, the treaty allows US expats to avoid double taxation on their income taxed in Switzerland by letting them claim US tax credits when they file their US tax return to the same value as Swiss income taxes that they've already paid, when they file their US tax return.
For income arising in the US, Americans in Switzerland can claim Swiss tax credits against income US taxes paid to the IRS.
To claim US tax credits against Swiss taxes paid, expats must file Form 1116 when they file their federal tax return. By doing this, the vast majority of US expats in Switzerland won't end up owing any US income tax.
The US – Switzerland Tax Treaty also allows the Swiss government to share US expats' Swiss tax information with the IRS, as well as their Swiss bank and investment account details and balances.
Some Americans in Switzerland, for example students and retired expats, may be able to claim a provision in the United States – Switzerland Tax Treaty (besides claiming US tax credits). Expats should consult a US expat tax specialist to check. Expats who can claim a provision in the treaty can do so by filing IRS Form 8833.
The US-Switzerland Totalization Agreement
A separate agreement called a Totalization Agreement helps US expats in Switzerland not to pay social security taxes to both the US and Swiss governments. Expats' contributions made while in Switzerland can be credited to either system. Which country they pay depends on how long they will be living in Switzerland.
Swiss taxes – what you need to know
Swiss residents are taxed on their worldwide income, while non-residents are just taxed on income arising in Switzerland.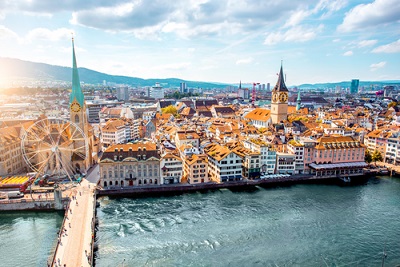 Switzerland has federal, municipal, canton, and church, income taxes. The total, cumulative rates range from 0% of income to 48%. There is also a wealth tax on assets.
If you are employed by a Swiss company, tax will be deducted from your income at source, and if this is your only income and you don't earn over CHF 120,000 per year (CHF 500,000 in Geneva), you don't have to file a Swiss tax return (although you still might want to, to claim deductions). Returns should be filed by March 31st, though extensions are available (some of which you have to pay for).
The details differ depending on which canton you live in. It's also compulsory to purchase medical insurance in Switzerland.
Americans will be considered residents in Switzerland if their permanent home or center of interests is there, or if they stay 30 days working (or intending to work) during the tax year, or 90 days not working or intending to work. Residents pay Swiss tax on their worldwide income, non-residents only on their Swiss sourced income (and wealth).
You can find information on Swiss income tax rates using the tool here.
Catching up
Expats in Switzerland who are behind with their US tax filing because they were unaware that they had to file from abroad can catch up without facing penalties under an IRS amnesty program called the Streamlined Procedure, so long as they do so before the IRS contacts them about it.
We strongly recommend that if you have any doubts or questions about your tax filing situation as a US expat living in Switzerland that you contact a US expat tax specialist.