In recent years, Colombia has become one of the hottest global destinations for digital nomads1. And with beautiful and diverse landscapes, charming cities and towns, a low cost of living, and a newly-launched digital nomad visa, it's not hard to see why.
Whether you want to learn Spanish, enjoy the tropical climate, or just explore one of the most enchanting countries in South America, Colombia could be the perfect fit for you. But what is Colombia's digital nomad visa and how do you apply? We'll answer those questions and more below.
Snapshot of Expat Life in Colombia:
Population: 51.52 million
Capital city: Bogotá
Currency: Colombian Peso
Official language: Spanish
Top cities for expats: Medellín, Bogotá, Cartagena, Barranquilla, Bucaramanga
Approximate # of American expats: 60,000
School-year calendar: February to November
Best time to move abroad: December to March
Digital nomad visa in Colombia: Background
At the beginning of the COVID-19 pandemic, worldwide travel — including in Colombia — came to a near standstill. As the situation improved over time, however, travel gradually picked up — especially among those with the newfound freedom to work remotely. Colombia's government saw an opportunity in remote workers like these who could stimulate the economy on an ongoing basis without adding competition to the local job market.
The government began discussing a digital nomad visa in March 2020 and officially greenlit the project in October 2022. In January 2023, the visa officially went live2.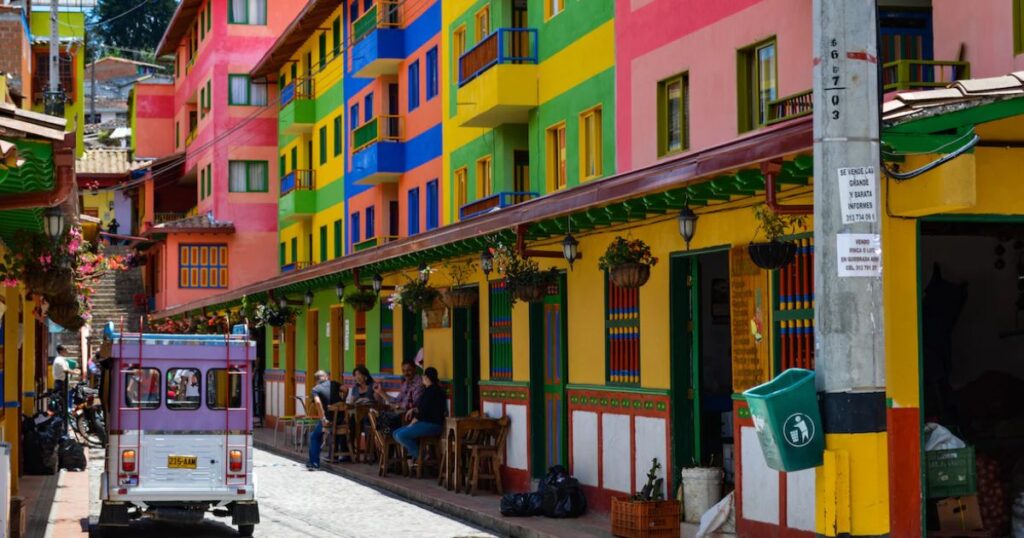 How to obtain the Colombia digital nomad visa
It's relatively easy to be eligible for Colombia's digital nomad visa — you need to be employed by a company outside of Colombia and earn a minimum of Col$3 million (about $650 USD) per month.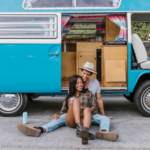 Related: How to Become a Digital Nomad in 2023: Slow Travel, Self-Employment, Taxes, & More
Visa requirements & duration
To successfully apply for the Colombian digital nomad visa, you need the following documents:
A letter or contract from your (non-Colombian) employer confirming your employment and salary (Note: Entrepreneurs must write a "motivation letter" detailing their plans)
Valid passport & copy
Bank statements proving a monthly income of at least Col$3 million (~$650 USD) for the last three months
Proof of health insurance for the visa's entire duration
Passport-size photo
You can stay in Colombia for up to two years on a digital nomad visa4.
Health insurance for digital nomads in Colombia
Your health insurance must cover accidents, illnesses, maternity, disability, hospitalization, and death/repatriation. You can buy health insurance from a private company in Colombia, or from a company that specializes in offering health insurance for digital nomads, like SafetyWing.
Expats in Colombia: best places to live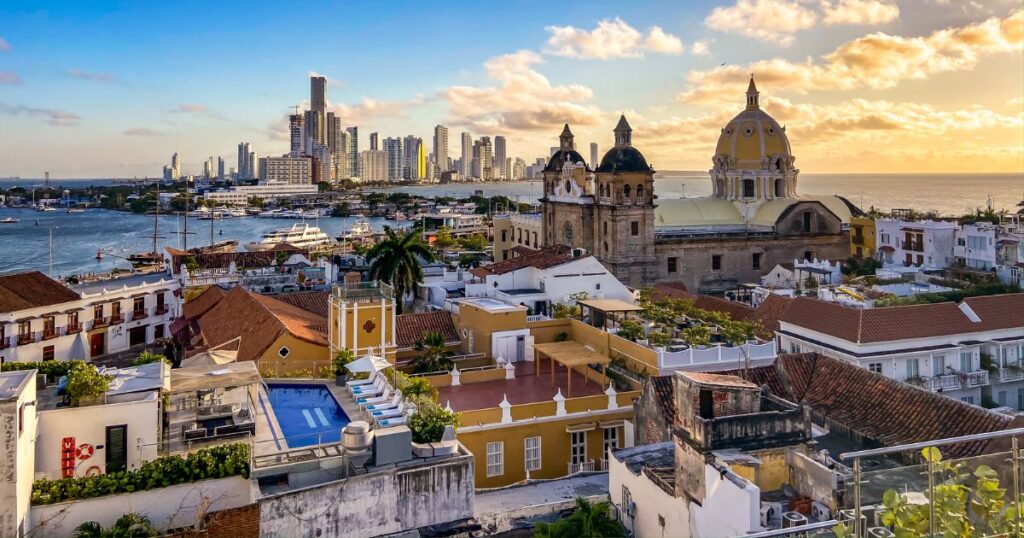 There are many great places in Colombia, but the cities below have all emerged as digital nomad hotspots.
Medellín
Medellín is the second-largest city in Colombia, but probably the biggest digital nomad hub. It's known for its mild year-round weather, innovative spirit, lively nightlife, and colorful surrounding pueblos (villages).
How much does it cost to live in Medellín?
Here are the average prices of some common expenses in Medellín, according to Numbeo5:
Monthly rent: Col$1,492,337 (~$322 USD) for a one-bedroom apartment in the center
Utility bills: Col$284,988 (~$62 USD) per month
Meal for 2: Col$100,000 (~$22 USD) at a mid-range restaurant
Bogotá
Bogotá is the largest city and capital of Colombia, known for its cultural scene, stunning mountain views, and excellent cuisine.
How much does it cost to live in Bogotá?
Here are the average prices of some common expenses in Bogotá, according to Numbeo6:
Monthly rent: Col$1,521,702 (~$329 USD) for a one-bedroom apartment in the center
Utility bills: Col$325,924 (~$70 USD) per month
Meal for 2: Col$90,000 (~$19 USD) at a mid-range restaurant
Cartagena
Cartagena, a northern coastal city, is known for its beaches, salsa dancing, and colorful buildings.
How much does it cost to live in Cartagena?
Here are the average prices of some common expenses in Cartagena, according to Numbeo7:
Monthly rent: Col$2,212,741 (~$477 USD) for a one-bedroom apartment in the center
Utility bills: Col$535,761 (~$116 USD) per month
Meal for 2: Col$90,000 (~$19 USD) at a mid-range restaurant
Barranquilla
Located just 83 miles Northeast of Cartagena, Barranquilla is a bustling port city known for its famous Carnival celebration, literary history, and cumbia dancing.
How much does it cost to live in Barranquilla?
Here are the average prices of some common expenses in Barranquilla, according to Numbeo8:
Monthly rent: Col$923,293 (~$199 USD) for a one-bedroom apartment in the center
Utility bills: Col$387,807 (~$84 USD) per month
Meal for 2: Col$80,000 (~$17 USD) at a mid-range restaurant
Bucaramanga
Bucaramanga is a city located in North-Central Colombia known for its parks and green spaces, universities, and adventure sports like paragliding, bungee jumping, and river rafting.
How much does it cost to live in Bucaramanga?
Here are the average prices of some common expenses in Bucaramanga, according to Numbeo9:
Monthly rent: Col$764,286 (~$165 USD) for a one-bedroom apartment in the center
Utility bills: Col$233,000 (~$50 USD) per month
Meal for 2: Col$60,000 (~$13 USD) at a mid-range restaurant
Digital nomad life in Colombia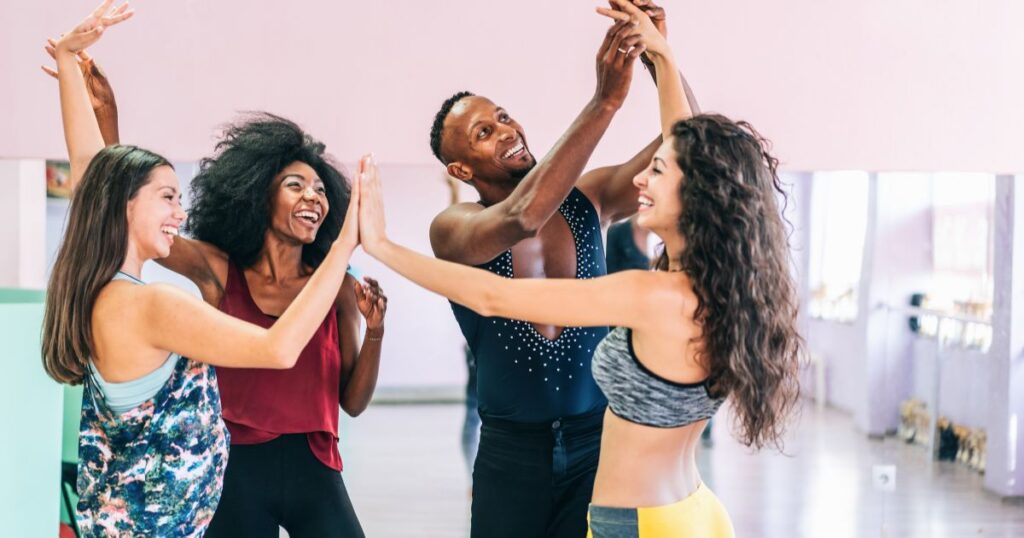 What to do in Colombia
There's no shortage of sites to see, places to go, and things to do in Colombia. Some highlights include:
Touring coffee plantations in the Coffee Axis region
Visiting the Catedral de Sal de Zipaquirá, a cathedral located in an underground salt mine
Exploring national parks like Tayrona, Serranía de la Macarena, & Chiribiquete
Going island hopping off the Caribbean coast
Discovering ancient ruins in San Agustín Archaeological Park & Ciudad Perdida ("Lost City")
Visiting museums like the National Museum, Gold Museum, & Museum of Antioquia
Celebrating Carnaval in Barranquilla
Checking out natural wonders like the El Totumo mud volcano, La Cueva del Esplendor ("The Cave of Splendor"), & the rainbow river of Caño Cristales
Expat community in Colombia: how to find your people
It's normal to feel a bit lonely when you first move to another country, but between the friendly locals and the large expat community in Colombia, you'll be making new friends in no time. A few ideas to get you started:
Move into a co-living space
Work from a coworking space
Stay in a social hostel
Take classes (e.g. Spanish, salsa dancing, cooking, etc.)
Attend events on Meetup & Couchsurfing
Join local expat groups on Facebook
Attend a language exchange or use a language exchange app
Volunteer in your community
Moving to Colombia
To start this new chapter of your life off right, you'll want to be prepared — so before you leave the US, make sure that you:
Gather all of your key documents (passport, visa, plane tickets, etc.)
Book accommodations for your arrival
Go to your doctor's to request a copy of your medical records, stock up on any prescriptions you take, and get any vaccines you might need
Pack your bags with the help of a list10; donate, store, or ship the items you won't bring
Cancel any subscriptions/services you won't need anymore (e.g. internet, newspaper subscriptions)
If you'll be bringing a pet, gather the necessary documentation11
Look up options for banking & cellphone plans in Colombia
Set up a forwarding address for your mail
Notify your US bank of your travels so foreign purchases aren't flagged as suspicious
Brush up on some basic Spanish
Colombia digital nomad taxes
Digital nomads will become tax residents of Colombia if they stay in the country for more than 183 days of the year.12 That said, while the Colombia digital nomad is valid for two years, there is no requirement to live in the country for that entire period of time. Therefore, it is possible to obtain a digital nomad visa to live and work remotely from Colombia without owing Colombian tax – but you must reside in the country for less than 183 days.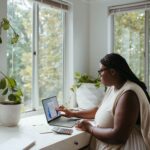 Related: Digital Nomad Taxes: Frequently Asked Questions
VAT in Colombia
One tax you will encounter in Colombia is the value-added tax (VAT) — the tax added to most goods and services — referred to locally as IVA. The standard rate is 19%, although there are reduced rates available:
5% IVA: Agricultural equipment and goods, electric/hybrid vehicles, etc.
0% IVA: Basic foods (e.g. meat, eggs, dairy), internet services (for low to mid-income customers)
Exempt from IVA: Public transportation, utilities13
Do American digital nomads in Colombia have to pay US taxes?
Yes, all US citizens and permanent residents must file US tax returns as long as they meet the minimum income reporting threshold. Some tax requirements and breaks that expats should know include:
Fallen behind on filing? Catching up on US taxes as a digital nomad in Colombia
If you've been living abroad for a while now and weren't aware of your US tax obligations, you may be able to catch up penalty-free thanks to a program called the Streamlined Procedures. To qualify, you must not currently be under investigation by the IRS or have already been contacted by them regarding outstanding taxes.
Consult with a Bright!Tax CPA to optimize your digital nomad tax strategy
With the launch of Colombia's digital nomad visa, moving there long-term as an American has become more accessible than ever before. And between the affordable cost of living and exemption from Colombian income taxes, living in Colombia as a digital nomad can be as financially advantageous as it is thrilling.
While you'll still have to file US taxes if you move on a Colombia digital nomad visa, the team at Bright!Tax can work with you to get them done correctly and on time while minimizing your bill as much as possible.
References: