American Pioneers No Longer Going West, Now Becoming Expats
11/21/2018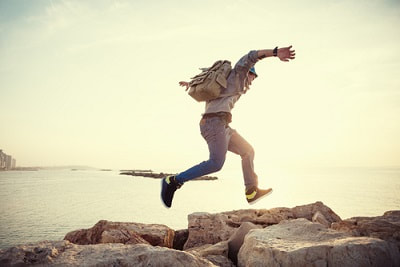 (Originally published in 2012)

I wondered for some years if I was alone thinking that opportunities for folks in the States were becoming more and more limited and if a relocation to another country might be the new "American West" – the place where dreams of good fortune and better living drew Americans by the wagon load, in the thousands, to places where fortunes were made (and lost) …
… and new possibilities abounded. It was entrepreneurialism in pure form.
The number of Americans aged 25-34 living abroad has increased from 1% to 5.1% in two years
40% of Americans aged 18-24 express a serious interest in working abroad, up from only 15% in 2009
The US State Department estimates 6.4m Americans are now working and living abroad
– Folks picking themselves up and, often out of necessity, venturing to places unknown.
It seems everything exciting that is happening economically in the world right now is in the emerging economies – Brazil, Russia, India, China (or BRICs as they're collectively known) and many other countries whose booming economies and business friendly environments are attracting some of the best American entrepreneurial talent in droves.
Juxtaposed against this is the latest bit of very sobering data from the US Bureau of Labor Statistics –
"And in another set of forecasts, on Wednesday, the Bureau of Labor Statistics released its occupational projections through 2020. They make very glum reading. The five job titles with the biggest projected increases in numerical terms: registered nurses, retail salespersons, home health aides, personal care aides, and office clerks. Of those, the first requires no more than an associate's degree; the last, a high-school diploma; and the middle three, less than high school. Of the top 20 occupations, just five require an associate's degree or more.

"Numbers have skyrocketed and only in recent years. In the 24 months before polling began, the number of Americans between the ages of 25 and 34 living abroad managed to surge from barely 1 percent to over 5.1 percent."
– Greg Dewald, Bright!Tax Founder and CEO
Altogether, 30% of the projected job openings over the decade will require less than a high-school diploma, and 40%, only a high school diploma. Less than 20% will require a bachelor's or more. Almost three-quarters will require no more than brief on-the-job training, and 85% will require no previous relevant job experience."
High school experience, indeed. With the offshoring of the American middle class through globalization, there's an emerging smart-set of young (and often not so young) Americans who are embracing globalization as the next opportunity – as the new frontier to be exploited and explored. No longer are these spirited young minds relegating themselves to lesser prospects in an emerging low-wage service economy in the US.
With their entrepreneurial and pioneering spirit they're pulling up stakes and going global – and as the world continues to shrink (through ever increasing technology), the idea of offshoring one's abilities has become much less daunting than it may have been in times past. The polling organization, Gallup, has gleaned statistics from some 135 countries and the numbers and not just eye catching, they're eye-popping .
| | |
| --- | --- |
| Numbers have skyrocketed and only in recent years. In the 24 months before polling began, the number of Americans between the ages of 25 and 34 living abroad managed to surge from barely 1 percent to over 5.1 percent. For those under the age span wishing to move overseas, the percentage has jumped in the same amount of time from 15 percent to 40. State Department numbers now estimate that 6.4 million Americans are currently living abroad – an astonishing increase over recent years past. | |
While the United States of America was at one point (and actually still is) a magnet for foreigners in search of work, the statistics make it clear that an opposite trend is quickly picking up steam.
"There's a feeling among more entrepreneurial Americans that if you really want to get anything done, you have to get out of country and away from the depressing atmosphere,"
Bob Adams of America Wave tells Reuters Magazine.
"There's a sense of lost direction, so more people are looking for locations that offer more hope about the future."
Well, count me among the new pioneers I suppose. A few years ago, having read the tea leaves and reaching my own conclusions, I took the decision to expatriate – and haven't looked back since. I've been living abroad and have discovered that the world outside the US is both endlessly fascinating and ripe with opportunity. All the gloom and sadness about all matters 'American' become more and more distant as my horizons are focused anew and continually expand – toward globalization and opportunities that lie before me that seem endless.