State Taxes for US Expats – What You Need to Know
02/08/2016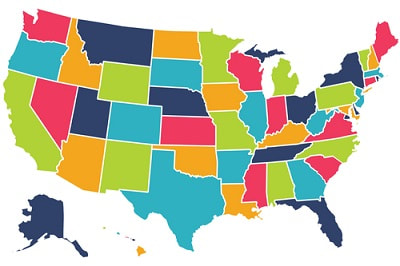 Moving abroad is the adventure of a lifetime, but in the midst of all the excitement and change it's important not to forget about taxes.
All US citizens and green card holders have to file a federal income tax return declaring their worldwide income wherever in the world they live, while expats may also have to file and pay taxes in their new country of residence.
But what about state taxes for US expats?
The short answer is that it depends on which state you lived in before your move abroad. Most states want to continue taxing former residents on tax earned in that state, which may include local investments, or a let property perhaps. That said, most will release you from state income tax and filing responsibility once you can satisfactorily prove your new residency elsewhere.
While each state has different rules, they can be divided into 3 main groups:
The Nice Nine:
Wyoming, Washington, Texas, South Dakota, Nevada, Florida and Alaska do not collect state income tax from their residents, and neither, by extension, from expatriates from those states. As such you if you're a resident in one of these four states before you move abroad, you won't have to worry about proving that you've moved.
Tennessee and New Hampshire meanwhile only collect taxes on interest and dividends, which makes life similarly easy for most expatriates.
The Fearful Four:
New Mexico, Virginia, South Carolina and California make life relatively difficult for former residents, asking them to prove that they will never return to live there, or keep paying state taxes.
If you are moving abroad from one of these four states and you a relatively high earner, it may be in your best interest to change residency to another state before you move abroad, as although a hassle this could potentially save you thousands of dollars over subsequent years.
The Rest:
The other 37 states are generally fairly happy to let you stop filing and paying taxes as long as you can prove your residence elsewhere six months after your move.
We are experts in state taxes for US expats, and we can help you file a state return if you need to, or prove that you are no longer resident and required to file if you don't.