Tax Tips for American Expats Living in Mexico
02/08/2016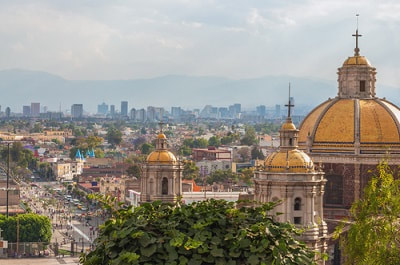 It's easy to understand why so many Americans choose to live, work, or retire in Mexico. If anything, it's hard not to envy them. Mexico's beaches, Spanish colonial cities, climate, delicious cuisine, and friendly people make for an incredible combination. Americans living in Mexico are still liable to file an annual federal tax return to the IRS though, as well as a Mexican tax return.
Both countries tax on worldwide income, however there are measures in place to prevent the same income being taxed twice. Read on to learn everything you need to know about your tax obligations if you're an American expat in Mexico.
Mexican tax requirements and dates
If you are a resident in Mexico, you are required to file an annual tax return declaring your worldwide income. You are considered to be resident in Mexico is you have a permanent home in Mexico, or if more than 50% of your worldwide annual income in a calendar year is generated in Mexico, or if the core of your professional activities is located in Mexico.
The tax year in Mexico is the same as in the US, which is to say from January 1st through to December 31st. Mexican tax returns must to be filed with the Servicio de Administración Tributaria and tax paid by April 30th of the following tax year.
US tax requirements and dates
Any taxes owed to the IRS must be paid by April 15th, just as if you were living in the US. The filing date for expats however (still form 1040) is June 15th, with an extension available until October 15th, which you can request online.
FATCA
The Foreign Account Tax Compliant Act (FATCA) meanwhile requires US expats to attach a form 8938 to their annual return declaring any overseas earnings and assets above a certain threshold.
FBAR
Furthermore, expats who have at least ten thousand dollars in total in bank accounts outside the US at any time during the tax year must also submit an FBAR (Foreign Bank Account Report) declaring their overseas bank accounts. In practice this means a form 114 which should be filed online by October 15th.
Preventing double taxation
The US and Mexico have a Double Taxation Treaty in place to prevent people being taxed on the same income twice. The IRS also has several other measures in place, including:
– The Foreign Earned Income Exclusion relieves US expats from paying tax on about the first $100 thousand of income earned abroad. The exclusion can be claimed using Form 2555, attached to your annual return. If you are married to a US citizen or green card holder who also has foreign income, you can both claim up to the full amount.
– If you earn more than the maximum Foreign Earned Income Exclusion allowance, the Foreign Tax Credit allows you to claim as a credit against your US liability a dollar for every dollar of income tax you've paid in your country of residence.
– If you are renting (rather than own) your home in Mexico, the Foreign Housing Exclusion allows you to claim expenses including rent, utility bills, insurance, and parking as tax deductible, normally up to the value of 30% of the Foreign Earned Income Exclusion.