The Top 5 Countries for Digital Nomad Visas in 2022
03/17/2022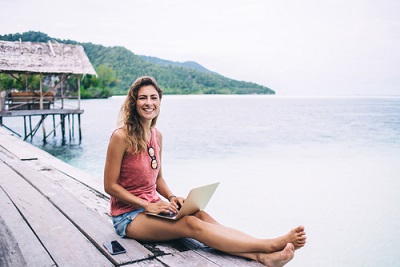 The term 'Digital Nomad' was introduced to the world in the 1997 book 'Digital Nomad' by Tsugio Makimoto and David Manners, forecasting the remote worker in the age of the internet.
Investopedia describes digital nomads as people who are location-independent and use technology to perform their job while living a nomadic lifestyle. Traveling the world without being tethered to an office has been a dream for many for years, and due to the COVID-19 pandemic, this has become a real possibility and a major career trend according to Forbes, with many companies closing their office doors for good. In fact, one study suggests that by 2025 almost 36 million Americans will be working remotely.  
One major issue that digital nomads face is navigating countries' visa requirements. With many traveling and working online on a tourist visa, this can be tricky, as it may not be compliant with local laws. In order to help those seeking proper entry, many countries have begun adopting a dedicated digital nomad visa program in a bid to boost their economies and attract more foreign workers. In this article we look at the top 5 countries offering digital nomad visas, and what to consider when looking for the right visa to meet your needs.
Estonia
We would be remiss if we didn't have Estonia on our list, as it was one of the first countries in the world to offer an official digital nomad visa. As of August 1, 2020, Estonia launched their Digital Nomad Visa for Remote Workers whereby eligible location-independent workers can apply to live in Estonia for up to a year with the peace of mind of knowing they can legally work. Applications are available for either a Type C (short stay) or Type D (long stay) digital nomad visa. You must apply  in person at an Estonian embassy or consulate. The fee for the short stay visa is €80 or $87 USD and for the long stay visa is €100 or $110 USD.
Eligibility requirements
Proof of your digital nomad status, working from an independent location using telecommunication technology.
An active contract with a company outside of Estonia
Proof that you meet the minimum income threshold for the six months preceding the application. The minimum threshold per month is €3,504, or about $3,855 USD before tax.
Portugal
Although Portugal does not have an official digital nomad visa they offer two types of visas that you can apply for to live as a digital nomad.
The first one a temporary stay visa valid for up to a year, including multiple entries into the country. The second and often better option is a temporary residency D7 visa, also known as the passive income visa or retirement visa. This allows foreign independent workers and entrepreneurs to reside in Portugal and live on their own income regardless of age. The D7 is attracting more and more remote workers who wish to stay in the country for more than one year with the possibility of extending residence for up to five years. 
"Make sure that you take care of yourself mentally, emotionally and spiritually. You need to eat well, exercise, get out of your apartment and socialize with people and get a good night's sleep." – Forbes
Once you have applied for a temporary residency visa, you will need to apply for a permanent resident permit within four months. Another nice thing about this visa is that after five years, you have the option to apply for permanent residency. You can expect to pay around €75 or $82 USD for your temporary visa D7 application, and €90 or $98 USD for your residence permit.
Eligibility Requirements
Proof of income from a foreign source
Income threshold of at least €600 or approximately $660 USD
Private Health insurance
Criminal background check
Spain
Currently, only the self employment visa allows digital nomads from other EU countries to live and work in Spain for one year. However, Spain is planning to launch a brand new visa for digital nomads to take advantage of the explosion of remote working options accelerated by the COVID-19 pandemic. The Startup Act introduced in the Spanish parliament will allow foreign employees from Non European Economic Area (EEA) countries working remotely for foreign companies to live in Spain without needing a full work visa. The proposal would also change tax laws for foreign remote workers giving them eligibility to the beneficial Non-Residents Tax Program.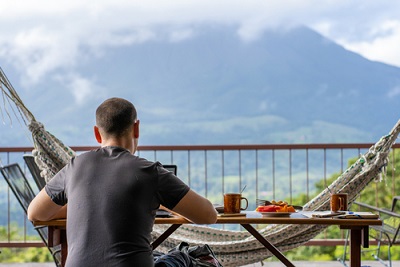 The Spanish digital nomad visa is expected to last for one year after approval and a further two years if you continue to meet the necessary requirements. It is expected to launch by summer 2022. Since this is such a new program, eligibility requirements are not fully known yet.
Eligibility Requirements
Proof of foreign remote employment 
Pass a background check
Costa Rica
Costa Rica has long been a favorite destination for digital nomads, and a recently passed law grants digital nomads visas that will allow you to stay for one year with the option to extend for another year. Providing access to the famous 'Pura Vida' lifestyle, this new visa adds even more reasons to choose Costa Rica as a destination for your travel/work lifestyle. For example, you will be able to open a local bank account, use your current country of origin driver license, and be exempt from paying local taxes. As of now, Costa Rica is still working out the details, so applications are not yet available and visa costs are not yet known, but we expect this to change very soon. Refer to the Costa Rica Embassy for new information as things are developing daily. 
Eligibility Requirements
$3,000 USD per month income
Proof of foreign remote employment
Proof of health insurance that covers you for the duration of your stay
Brazil
On February 24 2022, Brazil became the first South American country to adopt a digital nomad visa. The quickest way to apply for the Temporary XIV (VITEM XIV) Visa is at a Brazilian consulate. You can complete the application form here. The program is aimed at bringing more foreign nationals to stimulate the Brazilian economy, and help the country recover from the financial crisis caused by the pandemic. Brazilians are welcoming people, and love foreigners  even more so now with their economy struggling, so you will be welcomed with open arms! 
The devaluation of the Brazilian currency makes it possible for temporary residents to live well for less while also helping the local economy. The initial period of residence for the XIV visa is up to one year, and it can be renewed for an additional year. Another plus is the monthly income threshold is not as high as some other countries, making it accessible for more people. The fees for the visa are not clear yet, but we don't expect them to be exorbitant. Tax benefits related to the XIV visa are also currently unknown, but we will update this information as it becomes available.
Eligibility Requirements
 FBI Background Check issued within the past 90 days.
Employment or service contract – Document must be signed by a foreign Employer/service contractor.
Proof of income, from a foreign paying source, in a monthly amount equal to or greater to  $1,500 USD or Bank statements as proof of funds in the amount of $18,000 USD
Health insurance valid in Brazil
Consular Fees 
Pros and Cons
The digital nomad lifestyle comes with many benefits, such as freedom from traditional work environments, no long commutes, opportunities to travel, and more control over your schedule. Conversely you must be highly organized with excellent time management skills to balance a work/travel lifestyle, while working in different time zones. Travel can be expensive and loneliness is a real issue for many nomads who spend long periods of time away from their friends and family. It's important to weigh both the pros and cons when thinking about transitioning to this new remote work model. It also requires plenty of planning and research, as well as a little soul searching to find the right work/life balance and most importantly location to make your personal office abroad.
Don't forget that as an American digital nomad living abroad, you are still liable to file a US tax return every year, so always seek advice from a US tax professional as part of your planning.