Bright!Tax Chosen To Receive Venture Capital From UpTech
02/05/2016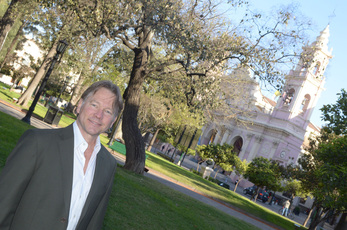 Greg Dewald, Bright!Tax CEO Following in the trailblazing footsteps of some of America's most innovating and exciting new businesses, entrepreneur Greg Dewald and his team of financial whizzes will see their cloud based start-up Bright!Tax reach thrilling new heights this year after being chosen to receive seed capital from one of United States' most progressive and hands-on venture funds.
After slugging it out with more than 80 candidates, Bright!Tax blasted through tough competition to secure $50,000 in equity investment from UpTech II along with office space, professional support services and applied research assistance from Northern Kentucky University.
Picked as one of the best and brightest businesses, Bright!Tax's stellar team of uber-talented CPAs and MBAs form the go-to, cloud-based, US income tax preparation firm that is becoming the most sought after by the almost 7 million Americans who are living abroad …
With clients in over 50 countries worldwide, Bright!Tax is already becoming the online US tax accounting firm of choice for Americans overseas. It experienced a stampede of clients during its first tax season and is known for its fanatical support, secure and precise service and fresh approach to doing business in the cloud. The UpTech nod will see its go-getting team making massive contributions to Americans across the globe with no-nonsense tax services delivered virtually with little or no worry.
Bright!Tax was founded by Greg Dewald, an entrepreneur who has won over 10 major business awards for starting and growing companies in the United States. Dewald has been recognized for making contributions to industry in the tech-space, creating jobs and his visionary brand of entrepreneurialism. In recognition of his accomplishments, Dewald has received commendations from both US Senators and Congressmen. He said, "Whether you're saving lives in South Africa or teaching in South America, Bright!Tax is all packed and ready to go on the journey. I'm so proud that our work has been recognized by UpTech because it shows that we really are breaking new ground. The UpTech investment means that we can carry on doing what we do best."
Amanda Greenwell, UpTech Program Manager said, "Our ultimate goal is to fund the best and brightest early-stage informatics companies that will complement the foundation of a thriving entrepreneurial ecosystem in our region."
Casey Barach, co-founder of UpTech said, " UpTech handpicked the region's most successful business owners, investors, entrepreneurs, and community stakeholders to select our next round of winners. The selection process demonstrates our community's commitment to foster entrepreneurial excellence and the desire to invest in the region's economic development."
The UpTech II nod will see Bright!Tax receive up to $50,000 of investment as well as a host of business tools to push its growth. The business accelerator will also provide Bright!Tax's accounting gurus with free office space, an executive mentor, a dedicated team of business professionals and marketing support services and access to resources from Northern Kentucky University's Center for Applied Informatics and student interns to push forward the next wave off all-conquering Bright! Tax initiatives.
Of the 7 million Americans now living overseas, a significant percentage of them, for various reasons, are not filing their required US income taxes. As the world enters the age of Big Data, one of the outcomes is that the United States is entering data sharing agreements with 80 + countries worldwide. With agreements in place, the United States is now requiring that all financial entities who have American clients, worldwide, to report information about their US clients to Washington or face debilitating consequences.
There is now a groundswell of Americans who feel an urgency to get caught up with their foreign financial account reporting and US taxes and Bright!Tax is at the ready to help them. With American CPAs, most of whom are MBAs in accounting, finance or tax law, all are expert at US expatriate tax issues. Filing US taxes from abroad can be daunting, if not impossible. Bright!Tax, with its intuitive online interface, makes it easy for American expats to remain compliant with their US tax filing requirements.
To find out more about Bright!Tax visit brighttax.com