The UK beckons to expats worldwide. From cosmopolitan cities like London, world-class soccer games (or football, as they call it) in cities like Manchester, and quaint rural escapes in places like Suffolk… the list of reasons to move to the UK goes on. Combine that with a diverse population, a strong national healthcare system, and quick and easy travel to mainland Europe, and there are plenty of reasons to move to the UK from the USA.
But what exactly does an American moving to the UK need to know before making the move? Read on for the full details in our guide.
Snapshot of Expat Life in the UK
Population: 67.33 million
Capital city: London
Currency: Pound sterling
Official language(s): English
Top cities for expats: London, Edinburgh, Birmingham, Bristol, Manchester
Approximate number of American expats: 200,000
School-year calendar: September to July
Best time to move abroad: Late spring or summer
Read more about the tax implications of moving abroad mid-year.
Moving to the UK from the USA: Where to start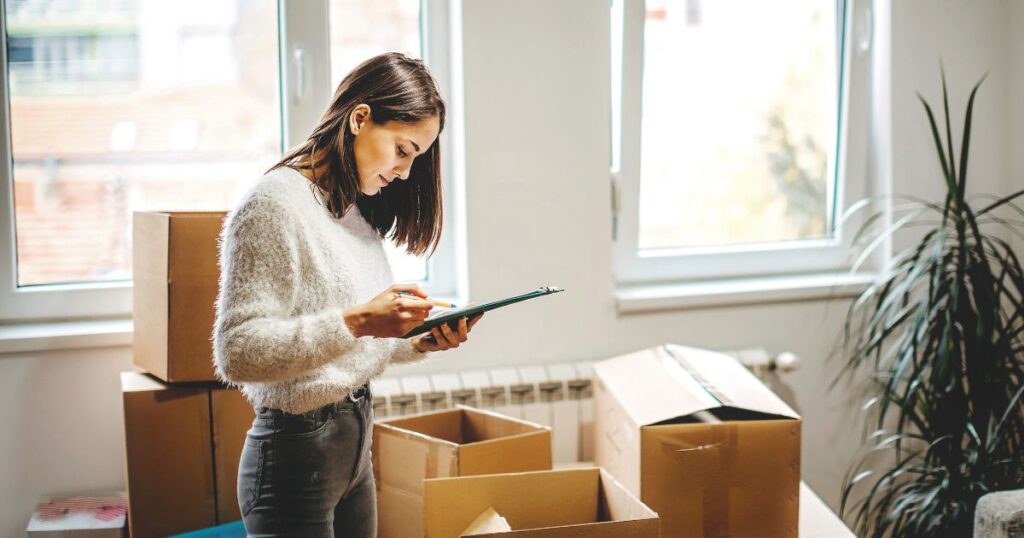 Moving to the UK from the USA is a big step — but the more you prepare in advance, the smoother your transition will be. Here are a few key steps to take:
Get your visa: Research which visa is the best fit for you and apply for it
Pack for your stay: Determine what you'll bring to the UK1 and what you'll leave behind2
Sell, store, or ship: Sell or donate any items you want to get rid of and decide whether to store the items you're keeping or ship them across the pond
Plan for pets & children: If you have a pet, research the requirements and process necessary to bring them; for children, research childcare options and nearby school systems
Plan your healthcare: Bring a three-month supply of any prescriptions you regularly take, research health insurance options, and sign up for the best fit
Buy your tickets: Use a site like Kayak or tools like Google Flights to monitor flight prices and book when you find a deal
Get your finances in order: Draft a budget for your new life in the UK, bring some cash to exchange right after you land, and open a bank account shortly after you arrive
Find accommodation: Book a stay for when you first arrive in the UK
Get a mobile plan: Look up the best mobile plans in the UK and sign up for one as soon as you can after arrival
How to move to the UK from the USA: Types of visas
There are several different visas that will allow you to live in the UK3 — a few of the most common ones for US expats include:
Work Visas
This includes visas for skilled workers, temporary workers, workers transferring to the UK, and recent graduates, among others.
Student Visas
For university students and students of certain full and part-time courses.4
Family Visas
For partners, spouses, children/dependents, and parents of current UK residents.
Step-by-step: how to apply for a UK Long-Stay Visa
If you plan to stay in the UK for more than six months, you'll need a long-stay visa. To do that, you'll need to:
Figure out which visa you qualify for
Apply for it on the UK's immigration site3
Book & attend an appointment to have your photo & fingerprints taken
Gather all of your required documents5
Submit your application, supporting documents, and fee payment via mail or in person
Book & attend an appointment at a Visa Application Center6
Collect your visa when it's ready to pick up
What's the difference between a UK visa and a UK residency permit?
Visas are documents that allow you to enter the country and stay for a limited amount of time, while residency permits tend to be for longer stays. Usually, you will apply for a residency permit after you're already in the country on a visa.
UK dual nationality: Are you eligible?
Dual nationality means that you're a citizen of both the US and the UK. A few of the most common ways you can qualify for UK citizenship include:
Having been born in the UK
Having a British parent
Being in a marriage or partnership with a UK citizen
Applying for and receiving indefinite leave to remain after living lawfully in the UK for five years
Note that even if you are granted UK citizenship, you still must pay US taxes. The only way to get out of your US tax obligations is by formally renouncing your citizenship or abandoning your Green Card. However, this is often a costly, expensive option that can limit your ability to move back to or visit the US.
Read More: Filing US Taxes In The UK: A Complete Expat Tax Guide
Planning for a long-term move as an American moving to the UK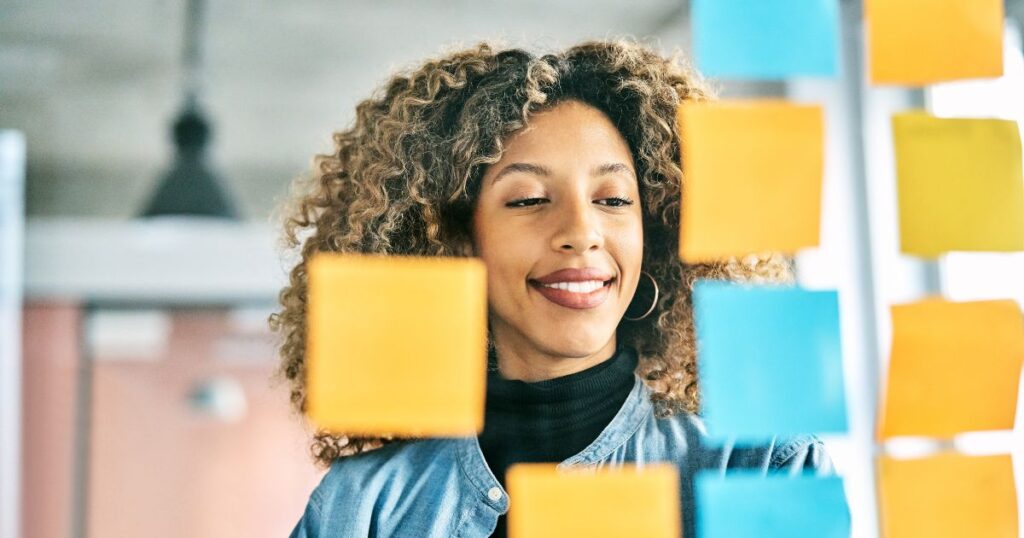 In addition to following all of the steps in the "Moving to the UK from the USA" section, those planning to move to the UK on a long-term basis should consider the following:
Will you buy a home? If so, how much would it cost?
Can you afford to live the lifestyle you want on a long-term basis?
Where will you go to find a sense of community and/or a support network?
Do you plan to retire in the UK? If so, will you save for retirement via a UK retirement or pension plan?
If you have or want a family, how does that fit into your plan of settling in the UK?
Best airlines to fly from the US to the UK
Lots of airlines fly to the UK from the US, but some are known for being better than others. If you're looking for lower prices, consider:
To balance cost with quality, consider:
Delta
British Airways
KLM
Virgin Atlantic
If you value quality over cost, consider:
Lufthansa
Swiss International Airlines
Emirates
Traveling with your pet from the US to the UK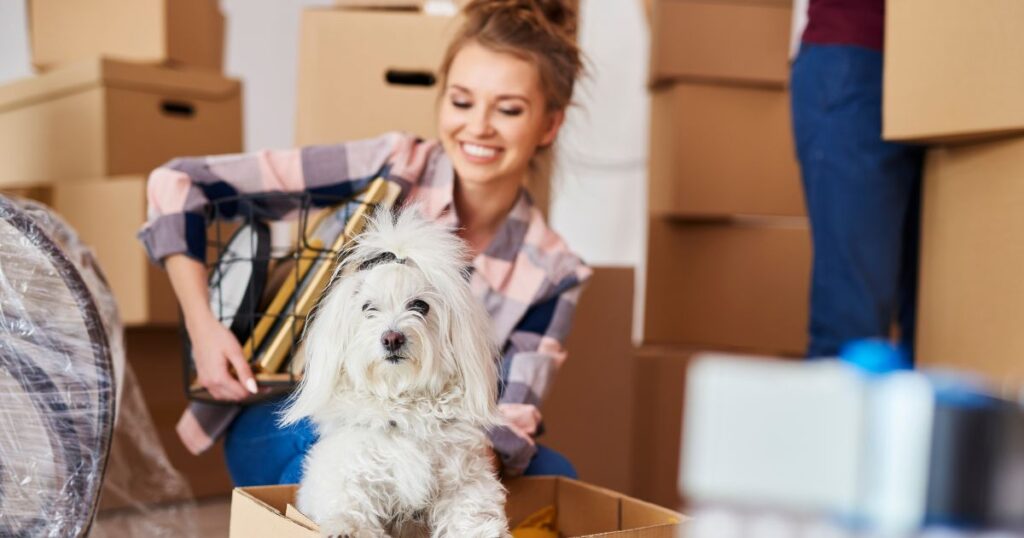 To bring your pet to the UK, it will need to be microchipped, have a pet passport/health certificate, be vaccinated against rabies, be brought in through an approved route, and officially declared, although additional requirements may apply.7
How to find accommodation in the UK
If you're looking for short-term stays, check out:
Airbnb
Hostels & budget hotels
Couchsurfing
House swaps
For longer stays, look at:
Zoopla
Rightmove
Facebook groups
How to move to London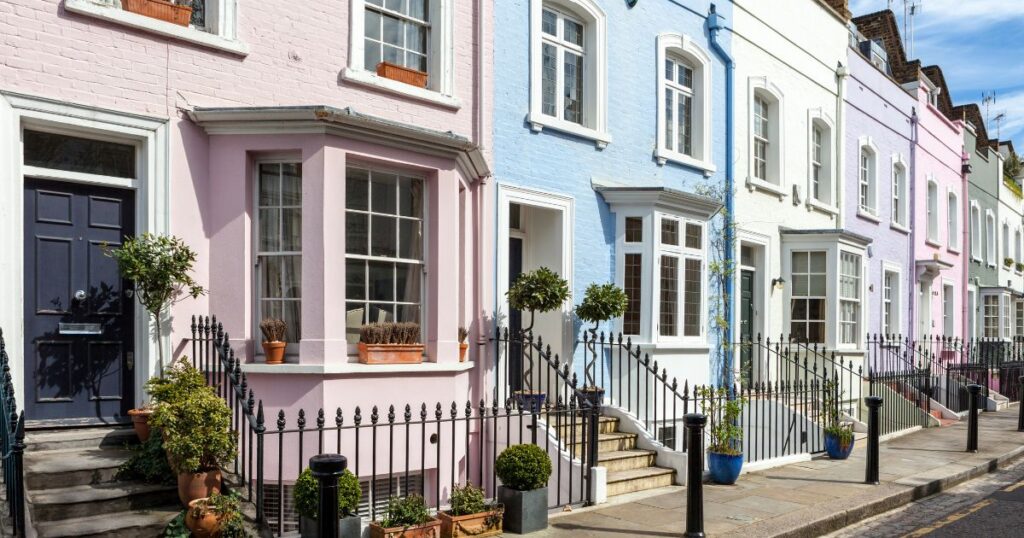 If you're moving to London specifically, there are a few particular things you'll want to keep in mind:
Know the drawbacks: While London has a great culture, food, and a strong job market, it is also expensive and the weather is often dreary.
Ditch your car: Many Londoners opt to walk, bike, or take the tube instead of driving (which can be stressful and expensive).
Download the apps locals use: A few frequently-used apps include Citymapper, Santander Cycles, Deliveroo, and the TFL Oyster App.
Best neighborhoods in London to live
If you're looking for the best neighborhoods in London, consider the following:
South Kensington is a popular expat hub, with a central location, excellent museums, and plenty of places to shop, dine, and drink
Notting Hill is quaint, posh, and famous for its Portobello Road market
Brixton is a diverse neighborhood known for its arts and music scene
Marylebone balances a small-town feel with great options for dining and shopping
Shoreditch is a hip locale with plenty of vintage stores, indie cafés, and street art
Camden Town has a thriving nightlife and bustling market
Richmond is a popular destination for families, known for its safety and green spaces
How to open a bank account in the UK
Wondering how to open a UK bank account? Some banks require you to open an account in person, while others allow you to open one online. They will likely request your passport/photo ID and proof of your address (utility bills, bank/credit card statements, rental/mortgage contracts, etc.).
Best UK banks for expats
When it comes to traditional banks, many expats turn to:
HSBC
Lloyds
Barclays
NatWest
Many expats are moving to online banking
US expats are increasingly eschewing traditional banks in favor of online ones, like Starling Bank, Monzo, and Monese. Money transfer services like Wise make it easy to transfer cash from your US to online bank accounts, get paid, and make payments to others.
Taxes in the UK: What is a CPA called in the UK?
In the US, Certified Public Accountant (CPA) is the standard accountant qualification. In the UK, you'll likely want to look for an accountant that has "Chartered" in their title, such as:
Chartered Certified Accountant (ACCA)
Chartered Management Accountant (CIMA)
Associate Chartered Accountant (ICAEW)
Chartered Accountant (ICAS)
How to file US taxes from the UK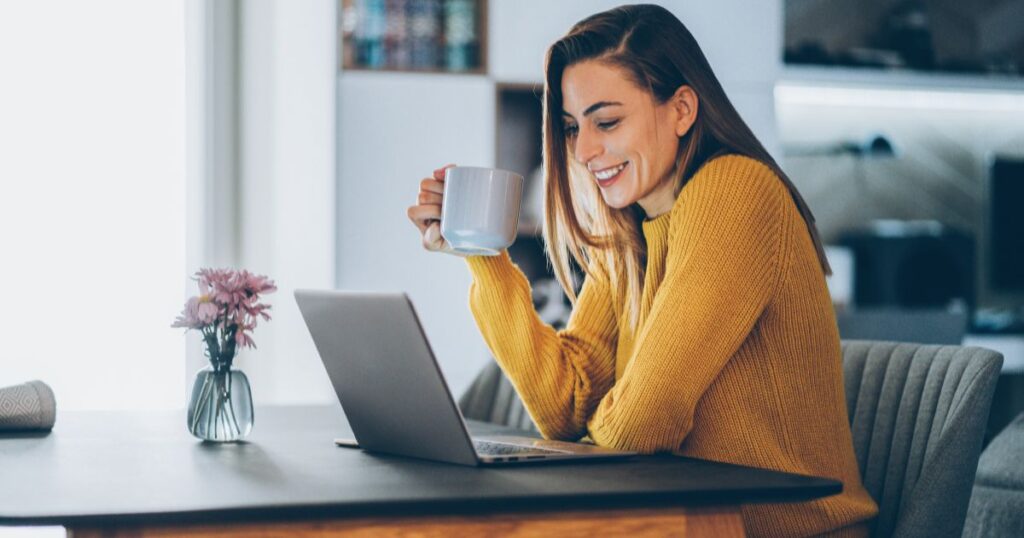 While moving to the UK from the USA is well worth the effort, it can complicate your taxes. Besides the federal tax return that all US citizens and permanent residents must file, many expats need to file UK taxes as well.
At Bright!Tax, we're proud to have both US and UK tax expertise. Our team includes both American CPAs and UK Chartered Accountants who will work together so that you don't have to coordinate with different firms, to ensure that your global tax strategy is as efficient as possible.
Register today for a free consultation!
References: