Did you know that Americans can buy property in Spain?
When you consider tapas culture and the longstanding tradition of the afternoon siesta, it's easy to see why many American tourists dream about buying a house in Spain. What may surprise some people, though, is that as popular as Spain is, it's very possible to find an affordable and beautiful Spanish property to purchase and own in one's own right.
In this article, we'll cover what you need to know about purchasing property in Spain as a foreign buyer. You'll notice similar considerations as we guide you through capital gains tax and property tax considerations, and introduce you to some key Spanish real estate terms.
Finally, no conversation about investing in European real estate is complete without talking about the Golden Visa — which Spain does indeed offer.
Let's dive in!
Why buy property in Spain?
Spain has become an increasingly hot real estate market in recent years for a number of different reasons, including its:
Mediterranean climate
More affordable cost of living
High quality of life
Warm, welcoming people
Excellent food and wine
Rich culture and fascinating history
Whether you're hoping to enjoy these perks yourselves — or just invest in a real estate market where more and more people are looking to move — purchasing property in Spain is an attractive option at the moment.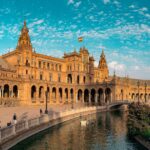 Related: Taxes in Spain: A Complete Guide for US Expats
Benefits of investing in real estate in Spain
Beyond the motivating factors mentioned above, there are a number of benefits to buying property specifically in Spain. Consider that:
Foreigners have the right to own property in Spain (which is not the case in every foreign country)
The Spanish property purchase process is relatively straightforward
The cost of buying real estate in Spain is often lower than in the US
There are a number of highly desirable areas of Spain to live in
It's possible to create a reliable passive income stream by renting out a Spanish property
Real estate in areas of Spain with high foreign demand tends to yield the strongest ROI1
In some situations, buying property may even offer you a pathway to residency (more on that below)
The Spanish economy
While Spain's economy is the 15th largest in the world and the sixth-largest in Europe,2 arriving at that status hasn't been without challenges.
Between 2008 and 2014, a burst of the housing bubble and the subsequent Great Recession dealt a significant blow to the Spanish economy, resulting in high unemployment, collapsing wages, bank closures, and government debt. A bank bailout deal from the European Union, and improving global economic conditions have helped the economy gradually improve.3
But in 2020, the COVID-19 pandemic dealt another serious blow to the Spanish economy, as the highly tourist-dependent country saw international visitors disappear nearly overnight.
Fortunately, the country appears to be back on the road to economic recovery today. Tourism, GDP, and tax-collection figures are up while inflation has slowed down.4
Note: While Spain has received significant aid from the European Union during periods of economic difficulty, they've also launched their own initiatives to support economic recovery — such as the recently-launched digital nomad visa and before that, the Golden Visa. More on the latter below!
Qualifying for the Spanish Golden Visa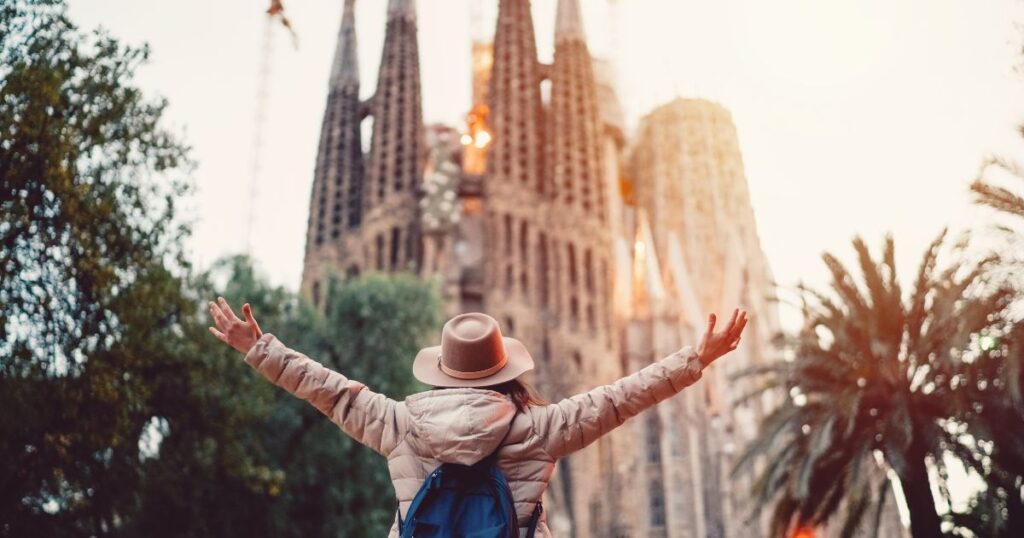 In 2013, Spain launched a Golden Visa, offering a pathway to residency for non-EU citizens who make significant investments in Spain.
The most accessible way to qualify for the visa is to buy a property in Spain (without a mortgage) worth at least €500,000.
However, you can also qualify by depositing €1,000,000 in a Spanish bank or purchasing Spanish shares worth €1,000,000.5
In addition, you must:
Be over 18
Arrange your own health insurance for the duration of your stay
Prove that you can financially support yourself and any family members you might bring
Have a clean criminal background check
Not be on Spain's list of undesirable people or have previously had a Schengen Visa rejected6
Once obtained, the Golden Visa is valid for one year and can be renewed two more times for two years each. After five years, you can apply for permanent Spanish residency.
How to buy property in Spain: A step-by-step guide
So, how exactly do you go about buying property in Spain? Here's a quick rundown on buying property in Spain as an American.
Spain makes it fairly easy for Americans to purchase property whether they're residents or not — but there are a few differences you should keep in mind. Additionally, the purchasing process for foreign buyers differs depending on whether you are purchasing as a resident or non-resident.
Purchasing property in Spain as a resident
In order to purchase property as a foreign resident in Spain, you'll need to:7
Set a budget
Identify a property you want to buy

Online: Idealista is the most commonly used real estate website, but Fotocasa and Kyero are popular as well
Real Estate Agents: Many Americans choose to go with the Spanish offices of American companies like RE/MAX, Sotheby's, and Coldwell Banker. Other options include Engel & Völkers, HomeEspaña, and SBD Immobles. Remember to always research agents/agencies thoroughly before partnering with one

Make an offer

Once the offer is accepted, you'll need to a) produce a Contrato de Reserva, which temporarily takes the property off the market while you complete due diligence and b) pay a holding fee

Conduct due diligence

This typically involves checking the Registro de la Propiedad to ensure there are no debts on the property, verifying the legality of the sale documents, and having the house surveyed

Sign the sale contract (Contrato Privado de Compraventa) & pay a 10% deposit
Sign the Escritura de Compraventa to finalize the sale & pay any remaining dues
Register the sale at a Notary Public
Pro tip:
It's highly recommended that you work with a property lawyer in Spain to assist you with purchasing property in Spain as a foreigner.
Purchasing property in Spain as a non-resident
Americans who aren't already residents in Spain will follow all of the same steps above, with one addition: They must register for a Número de Identificación de Extranjeros (NIE), a tax identification number. It's also a good idea to open up a Spanish bank account to expedite the process.
Note: If you open a Spanish bank account to facilitate the transfer of funds to purchase property in Spain, you will likely trigger FBAR and FATCA filing requirements on your upcoming US tax return.
Where to buy property in Spain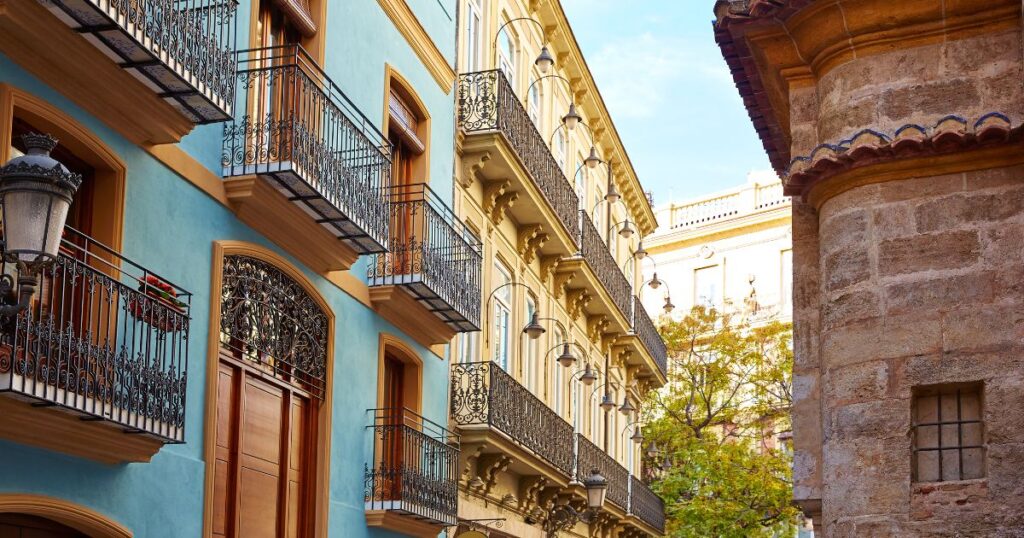 According to Caixa Research (1), there is a strong correlation between strong real estate appreciation and where foreign buyers tend to purchase property. Throughout 2023, real estate has trended in the following provinces.
Seville
Population: Approximately 690,000
Region: Andalusia
Known for: Stunning architecture such as the Alcázar of Seville, vibrant Flamenco culture, and the annual Feria de Abril festival. Its charm and warm climate make it a sought-after destination for property buyers seeking an authentic Spanish experience.
Granada
Population: Approximately 230,000
Region: Andalusia
Known for: The iconic Alhambra palace nestled against the Sierra Nevada backdrop, captivating Moorish heritage, and the historic Albayzín quarter's labyrinthine streets. Foreign property buyers are drawn to Granada's unique blend of cultural allure and natural beauty.
Valencia
Population: Approximately 800,000
Region: Valencian Community
Known for: Striking City of Arts and Sciences, miles of pristine beaches along the Mediterranean coast, the La Fallas festival in mid-March, and delicious paella. Valencia's modern amenities, coastal charm, and lively cultural scene make it a prime choice for property investment on the eastern seaboard.
Tarragona
Population: Approximately 132,000
Region: Catalonia
Known for: Ancient Roman ruins, including a seaside amphitheater, UNESCO-listed Tarraco Archaeological Site, picturesque Old Town with medieval streets, and beautiful Costa Daurada beaches. Property buyers are enticed by Tarragona's historical treasures and coastal relaxation, offering a unique slice of Catalonia's past and present.
Murcia
Population: Approximately 450,000
Region: Region of Murcia
Known for: The Mar Menor lagoon, Costa Cálida's year-round pleasant climate, historic Murcia Cathedral, and locally grown fruits. Murcia's unhurried lifestyle, diverse landscapes, and affordable real estate options attract property seekers looking to enjoy both coastal beauty and Spanish culture.
Girona
Population: Approximately 100,000
Region: Catalonia
Known for: Captivating medieval architecture, the well-preserved Jewish Quarter, stunning Onyar River houses, and as a filming location for iconic scenes in Game of Thrones. Girona's historical charm, connection to popular culture, and proximity to the Costa Brava coastline make it a captivating prospect for property buyers seeking a unique blend of past and present.
Malaga
Population: Approximately 570,000
Region: Andalusia
Known for: Birthplace of Picasso, vibrant cultural scene, sun-soaked Mediterranean beaches, and a burgeoning digital nomad community. Additionally, golf aficionados will find great golf courses in Malaga and the Costa del Sol more broadly.
With its cosmopolitan atmosphere, tech-friendly infrastructure, and potential for rental income, Malaga appeals to property investors looking to capitalize on the city's blend of artistic heritage and modern amenities.
Balearic Islands
Population: Varies across islands (e.g., Mallorca – around 900,000)
Region: Balearic Islands
Known for: Diverse archipelago including Mallorca, Ibiza, Menorca, and Formentera; pristine turquoise waters, exciting water sports, lively nightlife in Ibiza, stunning Serra de Tramuntana in Mallorca, and historic Ciutadella in Menorca.
The Balearic Islands offer a range of property investment opportunities, from luxury villas to charming coastal homes, attracting those seeking Mediterranean island living and tourism potential.
Alicante
Population: Approximately 330,000
Region: Valencian Community
Known for: Postcard-worthy beaches like Playa del Postiguet, historic Santa Bárbara Castle overlooking the city, lively Explanada de España promenade, and as a gateway to the Costa Blanca region. Alicante's combination of beachfront beauty, cultural landmarks, and accessibility makes it a desirable choice for property buyers seeking a relaxed Mediterranean lifestyle.
Note: The cost of housing in Europe is typically expressed in cost per square meter. So, when looking at listings of potential homes in Spain, it's a good idea to understand the average cost in terms of what the going rate per square meter of real estate is in your target city. To dig into the specific costs associated with purchasing, renting, and living in each of these areas, we recommend Numbeo.
Navigating the property market in Spain as a foreigner
While there are similarities between purchasing property in the US vs buying property in Spain, there are certain aspects to be aware of when purchasing in Spain.
Property taxes in Spain
There are a few different taxes associated with purchasing or owning property in Spain, including:
Impuesto de Transmisiones Patrimoniales (ITP): A tax of 6-10% (depending on location, whether the property is commercial or private, etc.) on purchases of existing properties
Impuesto sobre el Valor Añadido (IVA): A 10% value-added tax on purchases of new construction8
Impuesto sobre Bienes Inmuebles (IBI): An annual tax of .4% to 1.1%, depending on location9
Impuesto sobre el Patrimonio (IP): A wealth/luxury tax ranging from .2% to 2.5% of your net asset value which can be triggered by the purchase of properties exceeding €700,00010
Impuesto sobre la Renta de no Residentes (IRNR): A tax on non-residents who use their property in Spain as a secondary/vacation home for less than 183 days per year, applied at a rate of 24% of the home's imputed income (equal to 1.1% to 2% of the property's value)11
Tasa de Basura: A trash collection tax with an average fee of €92.10, although it varies by municipality12
Additionally, if you choose to rent out your Spanish property, income generated from that will be subject to taxation by the Spanish government.
Capital gains tax in Spain
If you choose to sell your home in Spain, the gains generated from the transfer of assets are subject to unique tax rates:
| Value in Euros | Value in US Dollars | Tax Rate |
| --- | --- | --- |
| €0 – €6,000 | ~$0 – $6,500 | 19% |
| €6,001 – €50,000 | ~$6,501 – $54,200 | 21% |
| €50,001 – €200,000 | ~$54,201 – $216,800 | 23% |
| €200,001+ | ~$216,801 + | 26% |
Financing options for US expats
US expats can qualify for mortgages in Spain, but it's worth noting that:
Properties purchased with the help of a mortgage do not qualify for the Golden Visa, even if they are valued at €500,000 or more
Expats who are Spanish residents will have an easier time qualifying for a mortgage from a Spanish or international bank (and often, receive more favorable rates)
Mortgages will not be granted until you buy the property, so it's wise to include a clause in your contract stating that the purchase is not to go through if you are unable to secure a mortgage13
To secure a mortgage, you typically need:14
An NIE number
Proof of income
Tracked expenses
A list of your debts
Proof that the property has no outstanding taxes to be paid
A pre-agreement with the seller
A record of your existing deeds and assets
On top of those aforementioned requirements, you must typically be able to put down a deposit of at least 30% of the property's purchasing price — likely more if it's a vacation home or if you're a non-resident — and prove that your mortgage payments will not take up more than 30% to 35% of your net earnings.15
Typical mortgage terms and interest rates
Mortgages in Spain are usually available at either variable or fixed rates, with the former being more common than the latter.
Note:
The average interest rate is 2.67%, (16) and mortgages typically last from 15-20 years for non-residents or up to 40 years for residents.
Pitfalls of buying property in Spain
There are several pros and cons to consider when buying property in Spain. Up until now, we've covered key information and many pros, but of course, no picture is complete without the cons. Here are some common pitfalls of buying property in Spain:
Finding a highly qualified property lawyer takes time and incurs additional legal fees
Scams aren't unheard of, so you'll want to make sure that you thoroughly vet any opportunities you come across and professionals you're considering working with
Any official documents must be translated into Spanish. In the event of disputes, Spanish documents are the ones that carry weight in court, so an airtight translation is critical
Climate change continues to take a toll on Spain, making it riskier to buy properties along the coast or in areas prone to extreme heat
Buying real estate in Spain not only opens you up to the different Spanish property taxes mentioned earlier but can also affect your US taxes
References