What's New with US Expat Tax Filing in 2018?
01/01/2018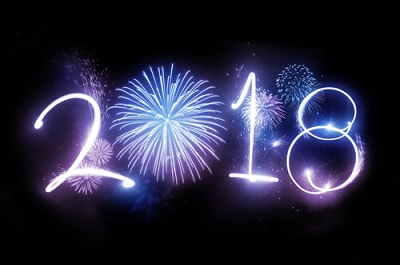 Happy new year from the Team at Bright!Tax!
2017 was the year we were recognized as being the best US expat tax services provider, winning 4 Global EMMA awards, including Tax Provider of the Year in the Americas and Asia Pacific Regions, runner-up in Europe, the Middle East, and Africa and runner up in the Innovation in Banking and Financial Services category for the Americas behind banking giant HSBC.
This year we'll continue to raise the bar by improving your experience of filing US taxes from abroad, with several exciting new industry-first innovations in the pipeline.
Here's what's new in US expat tax filing as well as at Bright!Tax in 2018.
What's new with US expat tax filing in 2018?
The IRS announced their annual changes for 2017 a while back, and for 2018 just recently. Tax rates remain the same for 2017 tax year as they were for 2016, though the bracket thresholds are a little higher in 2017 to reflect inflation. The Standard Deduction is also a bit higher, at $6,350 (up from $6,300 in 2016). Lastly, the Foreign Earned Income Exclusion threshold rises to $102,100 for tax year 2017, up from $101,300 in 2016, while for tax year 2018 it will jump to $104,100.
The big news though is that the Trump Tax Reform Bill has now been signed and became law on January 1st, 2018. The changes only apply to tax year 2018 though, so for tax filing in 2019. In brief, the major changes are lower income and corporation tax rates, and an increase in the Standard Deduction along with an elimination of the Personal Exemption.
The main exemptions for expats will remain unchanged, so many expats won't be affected in terms of their US filing strategy. Your Bright!Tax CPA will be happy to answer any questions that you may have regarding how the changes may affect your situation though. Changed have been made to the reporting and taxation of foreign registered corporations, so expats affected should consult an expat tax specialist for advice.
What's new at Bright!Tax in 2018?
At Bright!Tax we are constantly striving to enhance our place as the best tax preparer for US expats globally by improving our clients' experience filing US taxes from abroad, providing a truly streamlined and connected experience.
"While 2017 was the year we were confirmed as the best Expat Tax provider worldwide, we are always looking to improve, and our recent and upcoming innovations are all conceived to make US tax filing from abroad easier for expats around the world."
– Greg Dewald, Bright!Tax Founder and CEO
One stop shop tax return preparation for Americans living in the UK and Australia
We're pleased to announce that we now offer UK and Australian tax return filing, providing a one stop shop solution for the thousands of American expats living in the UK and Australia. This means that despite these countries' different tax years compared to the US, Bright!Tax clients need only provide their information once, meaning a significant economy of effort.
Proprietary, award-winning B!T Client Organizer now even better
It's now almost a year since we launched our ground-breaking, EMMA Award winning Client Organizer, allowing our clients to provide us with their income, expenditure, and foreign financial account information quickly and easily in an elegant and secure online interface.
The real benefit will be felt in 2018 though, as rather than having to input their information all over again from scratch this year, our expat clients can simply amend what has changed since last year, again meaning a further economy of effort.
We've also made improvements to the Client Organizer based on what our clients liked and didn't like.
The Bright!Tax Mobile App
It's also been almost a year since we launched our award-winning mobile app, allowing clients to keep count of their days in the US for their tax return, and securely scan and upload documents to us.
Again though, we've listened to our clients' feedback, and made updates to the App with a view to offering a truly smooth and seamless experience between our mobile and PC infrastructures, with our mobile app now offering access to our Client Organizer.
Rapid growth and investment in our award-winning online infrastructure have meant higher overheads though, so for the first time we are reluctantly increasing our single tax return price to $429. However – if you register before February 28th we are happy to honor last year's price of $379. Click the button below to register now!
These improvements to our offering for 2018 are simply part of our ongoing quest for perfection. We are keenly aware though that our accountants are the real key to our success. Highly qualified, expat expert, personable, and always available to you, our CPAs remain at the heart of our business. And with off the scale client satisfaction, we are confident that it is the mode that works best for our thousands of expat clients in over 190 countries worldwide.