If you're wondering how to move to Japan from the US, odds are, you've already fallen in love with the beautiful country.
From sushi and curry rice to cherry blossoms and bamboo groves to natural hot springs and tea ceremonies, Japan has long captivated the attention of Americans. But how hard is it to move to Japan, and how can you do so?
Below, we'll cover how to move to Japan as an American, from visas to airlines to places to live and more.
Snapshot of Expat Life in Japan
Population: 125.7 million
Approximate number of American expats: 62,425
Capital city: Tokyo
Currency: Japanese Yen (¥)
Official language(s): Japanese
Top cities for expats: Tokyo, Okinawa, Kyoto, Sapporo
School-year calendar: April to March
Best time to move abroad: Fall
How to move to Japan from the USA: Types of visas
Whether you want to know how to move to Japan permanently or just for a gap year, looking into the general visas below is a great starting point.
Working visa
The Japanese working visa is for professionals who have received a job offer from a Japanese company. It can last anywhere from three months to five years, depending on the length of the employee's contract, after which it can be extended.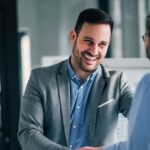 Related: Differences Between an Independent Contractor and an Employee
Intra-company transferee
Japan's intra-company transferee visa is for employees of multinational companies with offices in Japan. Again, it can last anywhere from three months to five years depending on the length of the employee's contract, after which it can be extended.
Multinational companies with headquarters in Japan
Seeking companies that regularly recruit international talent for positions in Japan? A few international corporations with headquarters in Japan include:
Sony
Toyota
SoftBank
Nintendo
Mitsubishi
There are also many American-based companies with offices in Japan in industries like tech (Apple, Google, SAP, Amazon, Salesforce), finance (PwC, Deloitte, Goldman Sachs, EY, KPMG), and consumer packaged goods (Johnson & Johnson, Procter & Gamble, Unilever, Coca Cola, Kraft Heinz).
Highly skilled professional visa
The Japanese highly skilled professional visa is for those working in advanced academic research, specialized or technical activities, or business management activities. It lasts for five years, after which it can be extended.
Pro tip:
Most applicants for the highly skilled professional visa require sponsorship from a Japanese employer for a Certificate of Eligibility. However, a special subclass of this visa called the business manager visa waives entrepreneurs who meet certain requirements from needing a sponsoring Japanese employer.
Student visa
The Japanese student visa is designed for individuals planning to study at educational institutions in Japan. It can last anywhere from three months to four years and three months, depending on the duration of your studies, and can be extended upon expiration for those who continue to be eligible.
Visas for spouses & children
Japan provides visas for spouses and children of Japanese nationals, spouses of Japanese permanent residents, and dependents of Japanese visa holders. It can last anywhere from six months to five years, depending on the spouse/parent's circumstances, and can be extended upon expiration for those who continue to be eligible.
Entrepreneurship visas
The Japanese startup visa is for entrepreneurs hoping to start a new business in Japan. It offers a transitory six-month stay for those who are getting their business off the ground, after which point it can be extended once for an additional six months. To stay longer, entrepreneurs would need to apply for a business manager visa under the highly skilled professional visa category.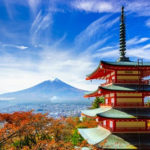 Related: A Japan Digital Nomad Visa? Not Yet, but Other Options Exist
Long-term residency visa
Americans with Japanese heritage may be able to apply for Japan's long-term resident visa. Eligible groups include the grandchildren of Japanese nationals and second and third-generation Japanese settlers in foreign countries. The visa can last anywhere from six months to five years, after which it can be extended.
Note: After ten years of continuously living in the country, you can apply for permanent residence in Japan.
American-Japanese dual nationality: Are you eligible?
Japanese law forbids holding multiple nationalities on paper, but in reality, it's a little more complex.
Individuals who were granted both US and Japanese citizenship at birth are often permitted to keep dual US/Japanese citizenship until 22 years old, at which point the Japanese government typically requires them to choose between nationalities. Choosing Japanese citizenship, however, does not automatically revoke your US citizenship — so some people are able to maintain their dual citizenship under the radar.
If the Japanese government finds out you acquired or maintain another nationality, however, they will generally revoke your Japanese citizenship. They will also require you to give up your US citizenship (or any other citizenship you hold) if you apply to become a naturalized Japanese citizen.
Planning for a long-term move to Japan
Big moves inevitably come with a lot of questions, like "How much does it cost to move to Japan," "What should I bring to Japan," and "How do I find a job in Japan." While you'll likely still need to do some independent research to prepare for your move, we've come up with a checklist to help get you started:
Gather all of your official documents, such as your passport and visa
Have at least 500,000¥ (~$3,315 USD) in savings for upfront moving costs
Book your flight and reserve a short-term stay
Create a packing list
Bring a three-month supply of prescriptions (if applicable) and a copy of your medical record
Sort through your possessions to determine which you will bring with you, put in storage, sell, or donate
Cancel services and subscriptions that you won't use anymore (e.g. internet, phone plan, US-specific streaming services)
Alert your bank and credit card company to your move so they won't flag purchases abroad as suspicious
Complete a change of address form
Research options for Japanese banks and cell phone plans
Reach out to other US expats living in Japan for advice — Facebook groups and subreddits are a great place to start
Best airlines to fly from the US to Japan
Numerous airlines provide direct flights from the US to Japan, with some standing out for their exceptional customer experience. Consider booking with, All Nippon Airways (ANA), Japan Airlines (JAL), Singapore Airlines, Delta Airlines, or United Airlines.
Best places to live in Japan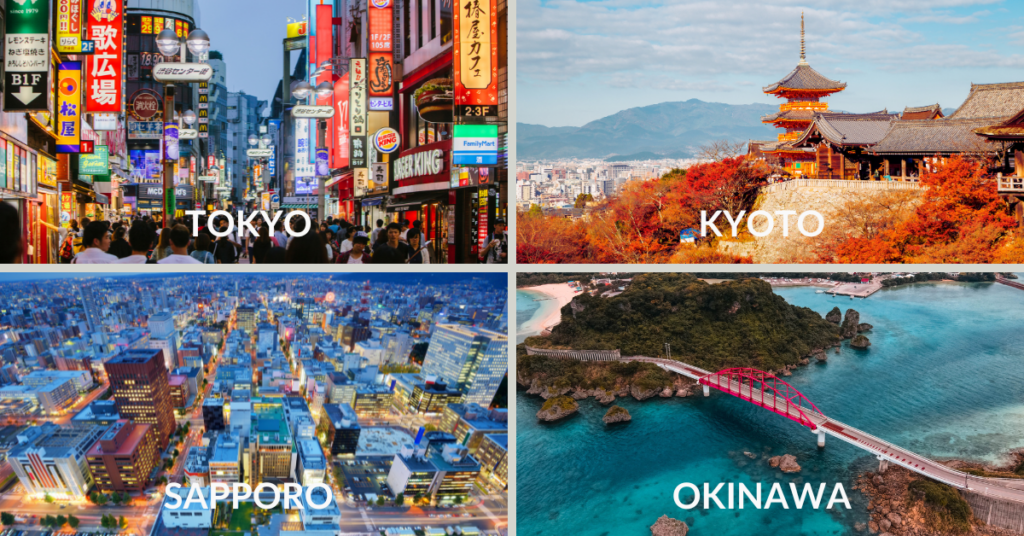 There are plenty of great places to live throughout the country, but some of the best expat hubs in Japan include:
Tokyo
Tokyo, Japan's capital and largest city, is a fascinating blend of technology, popular culture, and tradition. Whether you want to eat in a Michelin-starred restaurant, stroll through a typical Japanese garden, indulge your inner geek at the Ghibli Museum or Pokémon Café, or shop for avant-garde street fashion in Harajuku, you won't want for entertainment options in Tokyo. A few popular neighborhoods for expats include Roppongi, Hiroo, and Azabu.
Okinawa
The small southwestern island of Okinawa, on the other hand, offers a serene escape from the hustle and bustle of mainland Japan. With white sand beaches, crystal-clear waters, and a warm subtropical climate, Okinawa is perfect for anyone who loves surfing, scuba diving, swimming, or just soaking up some rays. Expats also appreciate Okinawa's relaxed pace of life, traditional Ryukyuan culture, and natural beauty. A few of the most popular expat areas include Yomitan, Chatan, and Sunabe.
Kyoto
Kyoto, Japan's former capital, is a major draw for those looking to immerse themselves in traditional Japanese culture. Ancient temples, shrines, castles, and historic tea houses all contribute to an atmosphere steeped in cultural richness and spiritual depth. Nature lovers, meanwhile, can find refuge in sites like Iwatayama Monkey Park and the famous Arashiyama Bamboo Grove. A few Kyoto neighborhoods favored by expats include Katsura, Karasuma, and Pontocho.
Sapporo
Sapporo may be best known for its eponymous beer — but this northern Japanese city offers much more than just that. Sapporo's numerous ramen stalls and seafood markets have marked it as an up-and-coming foodie destination, while the modern architecture and vast green spaces make it a pleasure to stroll around on a nice spring day. But Sapporo arguably shines brightest during the winter months, when residents take advantage of the nearby ski slopes and celebrate the Sapporo Snow Festival.
Investing in language-learning
If you move to Japan, it could be well worth your time to learn Japanese. Less than 8% of the country speaks fluent English, and while those numbers tend to be higher in urban areas, your day-to-day life will almost certainly be easier with some Japanese under your belt.
Prices for a three-month Japanese language course vary by institution and location, typically ranging from 150,000¥ to 200,000¥ (~$995 to $1,325 USD). Many academies offer both part-time and full-time courses, making it possible for working professionals to take an intensive language course.
Some of the more well-known language schools include KAI Japanese Language School, KCP International Japanese Language School, and Genki Japanese and Culture School.
Finding accommodation in Japan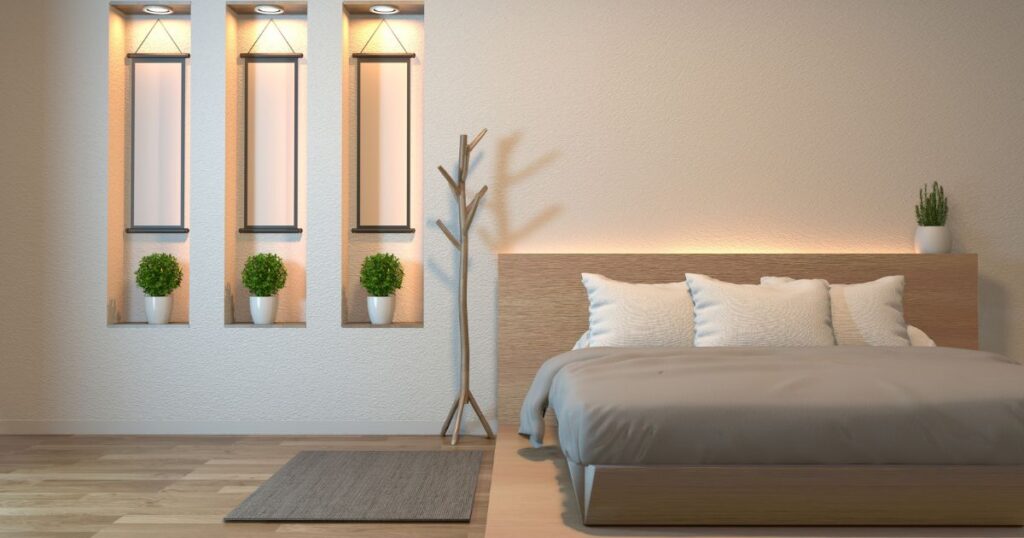 As finding an apartment in Japan usually takes four to six weeks, it's advisable to arrange short-term accommodations while securing a long-term living situation.
Some of the best options for short-term stays in Japan are "share houses" — fully-furnished living spaces shared by multiple renters — such as Sakura House, Oakhouse, and Social Apartment. Of course, you can also look up hostels on HostelWorld or short-term rentals on sites like Airbnb and Vrbo.
When it comes to long-term rentals, most foreigners choose to go through a real estate agency. Some, like KEN Corp, are specifically geared toward foreigners. Others, like Minimini, cater to a more general audience and, as such, may require you to hire a translator (or have a high level of written and spoken Japanese). Other popular housing resources include Gaijinpot, Facebook groups, and the government-affiliated Urban Renaissance Agency (UR) website.
How much is rent in Japan
Rent in Japan varies by location, with the average cost for a one-bedroom apartment in the city center being around $585 per month.
Urban areas, of course, tend to have higher rents, with Tokyo in particular being the most expensive (about $655 USD per month). In more rural areas, on the other hand, apartments may go for as little as $300 USD per month.
How to open a bank account in Japan
Opening a Japanese bank account will make it easier for those living in the country on a long-term basis to get paid, pay bills, and make daily purchases. While you may need the help of a Japanese-speaking friend or translator to fill out forms or talk to a representative, the process itself is fairly straightforward:
Gather the required documents

Passport
Residence card (aka Zairyu card)
Town hall registration
Proof of address (e.g. utility bill)
Personal seal (aka inkan or hanko)
Japanese mobile number

Apply for an account in person or online
Fill out the application form
Make an initial deposit, if required (typically at least 1,000¥, or about ~$7 USD)
Get your bank card
Set up online banking
Best Japan banks for expats
Some of the best banking options in Japan for English-speaking foreigners include Japan Post Bank (JP Bank), Shinsei Bank, Rakuten Bank, SMBC Trust Bank, and Sony Bank.
Online banks may be an option
If you don't want to open a physical bank account in Japan, you might consider opening an account with an online bank such as Starling Bank, Monzo, or Monese. Money transfer services like Wise, meanwhile, make it easy to transfer funds between your US and online bank accounts as well as send and receive payments.
Filing US taxes in Japan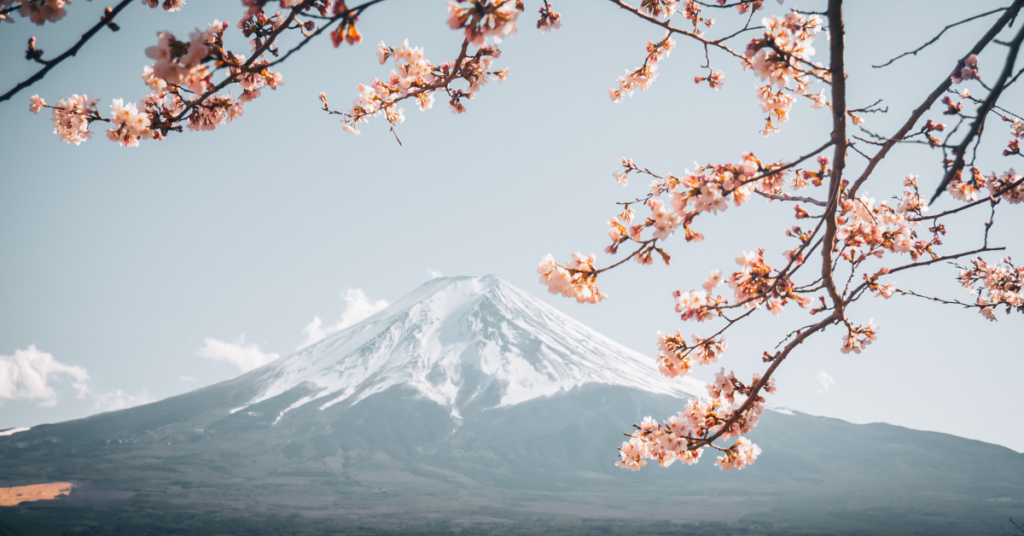 Moving abroad doesn't mean you're off the hook for US taxes. If you're an American citizen or permanent resident who meets the minimum income reporting threshold, you must file a federal tax return regardless of where in the world you live.
If you're also subject to taxes in Japan, this can potentially open you up to double taxation, despite the existence of the US/Japan tax treaty. The good news? US expats abroad can often erase their US tax bill entirely through tax breaks, including the following.
Earn a dollar-for-dollar, nonrefundable credit
The Foreign Tax Credit (FTC) gives you dollar-for-dollar credits for any foreign income taxes you've paid that can be applied to your US tax bill
Avoid double taxation on earned income
The Foreign Earned Income Exclusion (FEIE), allows you to exclude up to $126,500 USD of your foreign earned income for taxation in the 2024 tax year. Those who qualify for the FEIE via the Physical Presence Test or Bona Fide Residence test also qualify for the Foreign Housing Exclusion, which allows you to write off certain foreign housing expenses
Claim refundable credits for your dependent children
The Child Tax Credit (CTC), which typically allows expat parents to claim up to $1,700 USD per qualifying child/dependent
FATCA and FBAR considerations
Although expatriates receive certain tax breaks, they also face additional reporting obligations. Those with over $10,000 USD across foreign financial accounts at any point in the tax year must file a Foreign Bank Account Report (FBAR). 
Similarly, the Foreign Account Tax Compliance Act (FATCA) requires those abroad with foreign financial assets totaling over $200,000 USD on the last day of the tax year — or over $300,000 at any point in the tax year — to report them on Form 8938.
Common tax challenges for US expats in Japan
Filing taxes as a US expat in Japan can add a layer of complication to your tax and reporting obligations. For example, you may have to file both a US tax return and a Japanese tax return, which can be time-consuming and tedious. Additionally, navigating Japanese tax forms could be difficult if you don't have a strong grasp of the language.
It's also likely that there are tax breaks available to you that you may not be aware of or clear on how to claim, which can implicate your understanding of your tax and reporting obligations, and how to comply with them.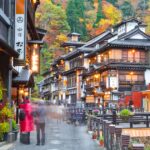 Related: Taxes in Japan for US Expats – A Complete Guide
References